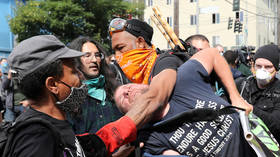 Protesters grab a street preacher in the Capitol Hill Autonomous Zone (CHAZ) in downtown Seattle recently.
A collection of self-described "American Patriots," made up of various militia and biker groups, is planning on retaking the zone from the leftists. According to an event posted on Facebook, more than 1,500 members of these "patriot groups" will descend on downtown Seattle on July 4 to "tear down the illegal barriers on public property, clean up the mess these communist kids made, and return the police station over to Seattle Police Department control."
A growing sense of concern is leading to anxiety for Seattle on whether the city will 'return to normalcy' and give the city's six-block area 'standard public safety.'
City authorities, meanwhile, seem content to let the 'Lord of the Flies' situation play out in the CHAZ. Rebuffing calls from President Donald Trump to stop the "ugly anarchists" "Immediately," Seattle Mayor Jenny Durkan has called the occupation a "summer of love," and scolded Trump, telling him "don't be so afraid of democracy."
Some residents are unhappy with Durkan's hands-off approach. "I'd like to see the police precinct restored. I'd like to see the city of Seattle step up and represent their people," the auto store owner said on Sunday night. Another resident told the Daily Caller that he's been "scared every day" since the zone was established, claiming he's "heard screams of terror out there" on the streets. 
More Safe America blogs coming… to report on recovery of Seattle's 'Capitol Hill Autonomous Zone.' (CHAZ)